Boeing is yet to restore its 20-year global fleet forecast to the 50,000 mark it predicted in its pre-crisis outlook, although its latest projection is still higher than that foreseen last year.
Two years ago, before the onset of the pandemic, the US airframer had envisioned nearly 50,700 aircraft worldwide by 2038 – the first time the global fleet had topped 50,000.
But in its latest forecast, Boeing puts the global fleet for 2040 at a lower level of 49,400 – although this still amounts to a rise on the 48,400 laid out during the depth of the crisis in 2020.
"You can't get around it," said vice-president of commercial marketing Darren Hulst, speaking during a 13 September briefing. "[We've lost] about two years of growth."
But he adds that the airframer predicts that the recovery will "accelerate quickly" in 2022-23, returning to pre-crisis levels towards the end of 2023 or in early 2024, such that long-term pre-crisis growth trends are restored by the middle of the decade.
Hulst believes that, while the pandemic has had a deeper and longer-lasting immediate effect than the 9/11 terrorist attack in 2001 and the global economic downturn in 2008-09, the "demand fundamentals" of the market remain "stronger" than those in the two previous crises.
The pandemic and the associated policy dynamics – notably travel restrictions – is driving near-term volatility, says Hulst, but the demand creates a "resilience" in the longer-term outlook.
Based on the pre-crisis figures for 2019, Boeing expects passenger and cargo traffic to rise by 4% per year over the next two decades, with an annual fleet growth of 3.1%.
It believes there is a market for 43,610 new deliveries by 2040.
This figure will include 32,660 single-aisle types above 90 seats – about the same number as it predicted in its pre-crisis outlook of 2019 – plus 7,670 twin-aisle models, lower than the previous figure of 8,340.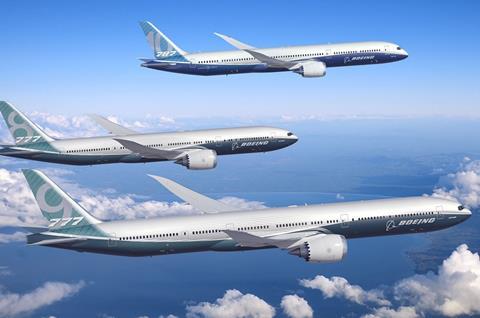 Fleet renewal, driven by the need for greater efficiency, lower costs and sustainability trends, will be a central factor, says Hulst.
Some 20,100 new deliveries – about 46% of the total – will go towards replacement, with carriers retaining fewer than 5,800 aircraft from the 2019 global fleet. The other 23,500 will be used for growth.
Hulst says there are around 3,000 aircraft ready for near-term replacement, potentially generating annual fuel savings of $9 billion, and he highlights a "dramatic shift" towards twin-engined types.
Some 250 widebody twinjets – including Boeing 777s and 787s, as well as Airbus A330s and A350s – have taken over routes which were being operated by four-engined aircraft in 2019. Several carriers have withdrawn four-engined models including Boeing 747s, Airbus A380s and A340s.
Hulst says aircraft retirements are "tracking prior downturn trends". Over 1,500 aircraft retirements have been announced and some 450 have been formally retired, he states, while 4,000-5,000 aircraft in the overall global fleet remain parked.
"That [parked figure] has come down a lot already – that's where it is today," he says. While airlines had been reactivating about 100 aircraft per week recently, he adds, the pace has slowed and is likely to "level off" in autumn. But he expects the parked aircraft figure to trend downwards as international travel restrictions ease.
Single-aisle models have led the recovery, says Hulst, with activity levels rising to about 90%.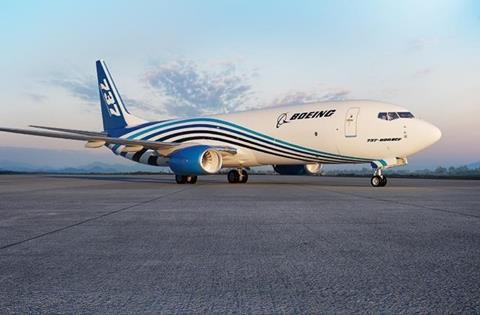 Boeing has also reined-in the 20-year expectation for new-build widebody freighters, from over 1,000 aircraft in its 2019 outlook, and 930 last year, to around 890 in its updated figures. The 890 deliveries will be evenly split between medium and large widebody types.
Conversions of older aircraft, rather than new-builds, will fill the surging capacity demand in the air cargo sector, particularly in the e-commerce field.
Hulst points out that the global freighter fleet will increase by 70% from its 2019 level, to over 3,400 aircraft by 2040.
World air cargo traffic, he says, has climbed above pre-crisis levels but is still being addressed by an overall 11% reduction in fleet capacity, owing to a 44% fall in capacity offered by passenger aircraft that has not been fully offset by the 29% increase in dedicated freighter capacity.
Boeing expects North America, China, Europe, and the Asia-Pacific regions each to account for about 20% of new deliveries to 2040, with the remaining 20% split between the Middle East, Latin America, Africa, Russia and Central Asia.