Airbus is looking ahead to the final maturity stages of A321XLR development, as it details the in-flight validation effort for the cabin-equipped flight-test airframe.
The aircraft – a CFM International Leap-1A-powered twinjet, MSN11080 – is one of three prototypes participating in the XLR certification campaign.
While intended for passenger cabin tests, it has been fitted with instrumentation for a cold-weather test at Iqaluit airport in Canada, following the recent similar checks undertaken by MSN11058, its Pratt & Whitney-powered sister aircraft. MSN11080 was flown to Iqaluit on 14 March.
"The freezing protection and insulation of the water lines will be tested as well as the complete waste tank itself and lavatory areas," says the airframer.
Airbus is using the third prototype, designated FTV3, to examine elements of the Airspace cabin interior as well as various aspects of passenger comfort, such as sound insulation, and thermal and ventilation features – all of which will be particularly important given that the XLR is intended for long-range services.
The long-range capability is achieved with a large aft fuel tank, requiring extra pumps, and Airbus will check that these do not introduce unwanted acoustic issues.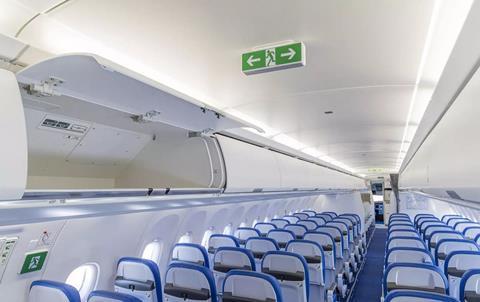 "We have added insulation in the forward fuselage section and developed a new lining as standard within the door and door-surround structures," says cabin and cargo engineering project leader Mehmet Altay.
He adds that the airframer has developed optional thermal-acoustic covers for the doors, which can be attached by magnets during flight.
Some of the XLR refinements have emerged as a result of feedback sourced from operators of A321neos featuring the variant's latest cabin and door configuration.
A321XLR cabin and cargo lead Wei Chung Tuan says some preliminary interior function tests were conducted with the first XLR prototype, MSN11000.
But MSN11080 will be used for in-depth assessment of both "overt" cabin-comfort features and such systems as the optional 300-litre waste water tank, freeze-protection measures, and heated floor panels.
Airbus expects to carry out a flight-test campaign this year, including 7h sorties, to explore passenger and crew perceptions of the aircraft.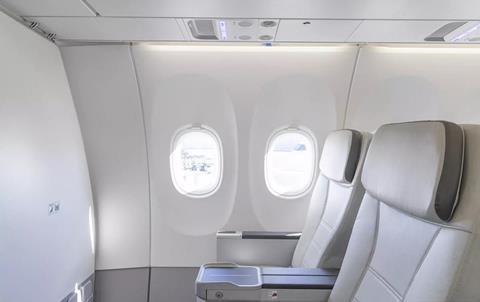 "We will conduct surveys, to assess the passenger comfort level on the aircraft during the long flights with regards to temperature and noise," says Wei Chung, adding that handheld devices will take acoustic and temperature measurements within the cabin.
These tests will include vibration and resonance of the Airspace cabin components, as well as ergonomic checks on aspects such as overhead bin loading.
Cabin layouts have become "more complex" as single-aisle aircraft adapt to long-range operations, says Altay.
"While the galleys and other monuments haven't really changed, we have many more combinations of monuments in the forward cabin," he states.
Airbus says the XLR will take advantage of the cabin flexibility introduced with the latest A321neo versions, including a forward-fuselage zone enabling carriers to create natural seat-class divisions using galleys and lavatories, and offer two- or three-class service on board.