Chinese manufacturer Harbin Aircraft's Y-12F commuter transport has secured European certification, seven years after obtaining US approval.
The Y-12F is a 19-seat high-wing twin-turboprop, a development of the Y-12 which first flew over four decades ago – although the latest variant differs substantially from the original.
It is powered by Pratt & Whitney Canada PT6A engines – driving five-blade aluminium propellers – and has a maximum range at full payload of 193nm (357km).
The aircraft has left and right fuel tanks each with capacity for 1,252kg of fuel. The Y-12F's maximum operating speed is 209kt, and it has a maximum take-off weight of 8.4t.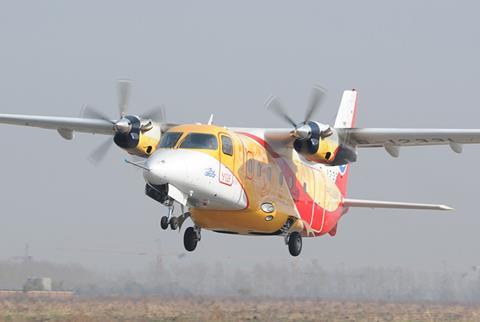 Harbin says the aircraft has undergone improvements to performance, reliability, maintainability and comfort. It can be configured to carry 3t of freight or serve as a VIP transport or special-mission platform.
The European Union Aviation Safety Agency granted type certification on 13 July.
It states that the Y-12F is unpressurised, with a length of 16.47m and a span of 19.89m. The aircraft has forward and aft baggage compartments with respective capacities of 50kg and 250kg.
China's civil aviation administration certified the Y-12F in December 2015, and US FAA validation followed in February 2016.
US regulators had previously certified earlier versions of the aircraft, the Y-12 IV in March 1995 and the Y-12E in August 2006, although EASA had not.