UK cockpit crew representatives are urging potential student pilots to exercise caution before committing to flight training, insisting that suggestions of a global pilot shortage are misleading.
The UK pilot union BALPA acknowledges that there is an "acute" shortage in the USA, as well as a shortfall of "experienced" pilots in south and east Asia.
But it adds that these are "localised" and not reflected in other parts of the world.
"We believe that claims of a 'worldwide pilot shortage' are unfounded and not backed up by independent analysis [or] evidence," the union states.
In the aftermath of the pandemic there is still a pool of experienced pilots – including 500 in the UK, it adds – from which crews are being drawn to meet recruitment demands.
BALPA says it expects to see a "sustained reduction" on the number of unemployed pilots from 2024, as well as increasing demand for newly-qualified crew members compared with the 2020-22 period when the pandemic disrupted air transport.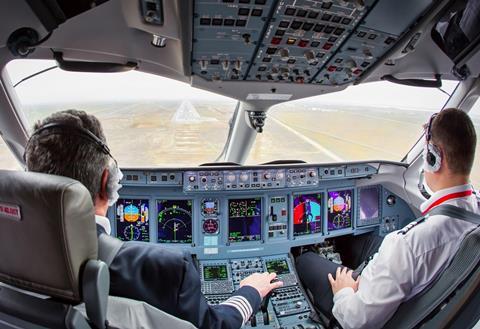 The union has welcomed airline-backed cadet-pilot schemes recently unveiled by British Airways and TUI Airways, which shift the heavy financial risk of training courses onto the carrier.
BALPA says the TUI scheme, in particular, will feature multi-crew pilot licence training, and adds that it marks the first time the union has been able to support such a programme.
"With all previous MPL programmes the financial risk has been entirely placed on the trainee," it states.
Given that a number of flight schools have collapsed in the wake of the pandemic, while still holding large sums of trainees' money, the union is warning potential trainees not to pay for the entirety of flight training up-front, and to conduct "thorough research" on each academy and training avenue being considered.
It adds that would-be pilots should not base commitment to a school on promises of jobs, even if the school claims to have close ties to airlines.
"The only certainty of a job with a company is a signed contract from that company," says BALPA.
"All too often we see members chose a flight school based on a 'gentleman's promise' of a job or a conditional offer of employment with a company – only for that offer to no longer be valid, two years later, at the end of their training."
BALPA says it has undertaken a campaign to ensure that trainees are better-protected financially, while offering a "stable training pipeline" for the UK airline sector.