Three years after British Airways withdrew its last Boeing 747s from service, the aircraft which bore the BOAC heritage livery is being dismantled and its parts offered to collectors.
The aircraft (G-BYGC) was the first of three 747-400s, along with an Airbus A320, to be painted in retro schemes to mark British Airways' 100th anniversary.
It emerged in 2019, carrying the colours of British Overseas Airways Corporation, the airline which subsequently merged with British European Airways to form the flag-carrier.
When this aircraft was withdrawn from service in 2020 – as the pandemic severely disrupted long-haul travel – it was delivered to aircraft dismantling specialist ECube in St Athan.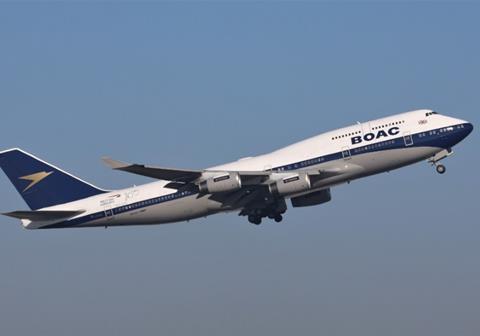 It had originally been considered for preservation and public access, says UK-based repurposing company Plane Reclaimers.
"Following a full evaluation, including the aircraft's various stakeholders, the limitations of moving the aircraft to a safe, non-airside location had made this ambition unattainable," it says.
"The decision was made to give aviation enthusiasts around the world the opportunity to keep a piece of aviation history."
As a result, parts of the jet – including window-cuts and cabin fittings – have been made available from 1 November through Plane Reclaimers' online site. The company says it will ensure certain components are re-used by sectors of the industry, for such functions as training.