European Union representatives have signed an extensive air transport agreement with the member states of the Association of Southeast Asian Nations, a pact which will enhance connectivity between the 37 countries of the two trading blocs.
The EU-ASEAN agreement – described as the first such "bloc-to-bloc" aviation arrangement – will also commit the members to fair competition and improvement of social and environmental conditions.
"It replaces more than 140 bilateral air services agreements, providing a single set of rules and reducing red tape," says European transport commissioner Adina Valean.
EU countries without bilateral agreements with ASEAN states are also covered by the framework.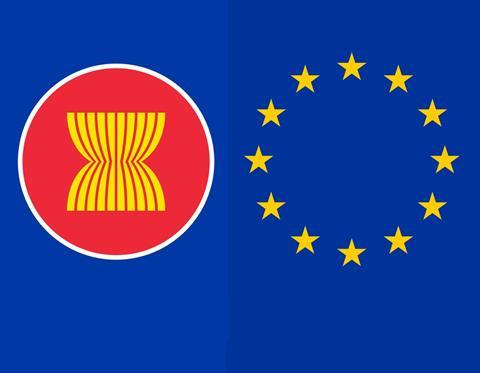 All EU and ASEAN airlines will be able to operate flights between the two blocs, to and from any airport.
Carriers will be able to operate up to 14 weekly passenger services and any number of cargo flights via and beyond, to any third country.
The initial seven passenger frequencies will be available immediately, and the remainder after two years on routes not operated by airlines of the other party.
Negotiations for the comprehensive pact were finalised in June last year, five years after the European Commission was authorised to commence the discussions.
Several individual countries have already entered similar air transport agreements with the EU.
"While most EU member states have bilateral aviation agreements with some ASEAN states, very few have agreements with all," says the European Commission.
"The existing bilateral agreements do not cover essential aspects, such as fair competition, financial transparency, environmental or social issues. All are critical for improving the sustainability of aviation and for ensuring a level playing field."
The new framework covering air transport between the two blocs will simplify administration and provide a "single set of rules", it says.
Immediate access to third- and fourth-freedom traffic rights for passenger and cargo services between airport in either bloc, it adds, amounts to a "major upgrade" compared with the previous "rather restrictive" bilaterals.
"For many routes the aviation agreement will enable flights for the first time ever," the Commission states. "It will link more than 100 EU-ASEAN country pairs which so far did not have a legal base for air services agreements between them."