Israel Aerospace Industries has completed two Boeing 777-300ER freighter conversions, and is in the process of modifying another three, with the aircraft due to enter service next year.
One aircraft (N778CK) is undertaking the flight-test and certification programme, while a second (N779CK) is being displayed at the Dubai air show. US cargo carrier Kalitta Air is due to take delivery of the first examples.
Lessor AerCap is a partner and customer of the programme, and conducts marketing for the aircraft, designated the 777-300ERSF. Its AerCap Cargo division has firm orders for 20 of the type and options for another 10.
Vice-president of airline and fleet management Paul Morris states that the overall number of 777-300ERSFs on order exceeds the individual backlogs of the new-build Boeing 777F, 777-8F and Airbus A350F.
Other customers for the 777-300ERSF include Emirates SkyCargo, Fly Meta, Hongyuan Group, Eva Air Cargo, Altavair, Challenge Air Cargo, Cargojet, Jiangxi Air and Central Airlines. There are also two undisclosed customers.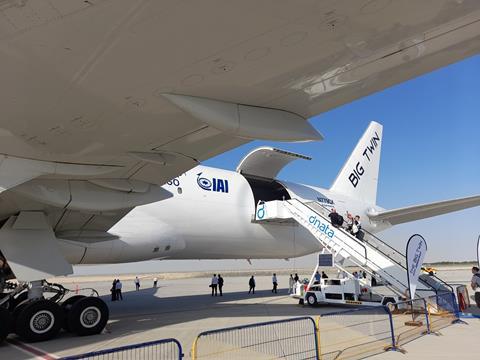 Morris believes the maturity of the 777-300ER, particularly the reliability of its General Electric GE90 engines, and the "very homogenous" feedstock are key to the aircraft's popularity.
He adds that the freighter is designed to be flexible. "It works if you fly 5,000h a year but also works well for operators who don't want to operate as many hours," he says.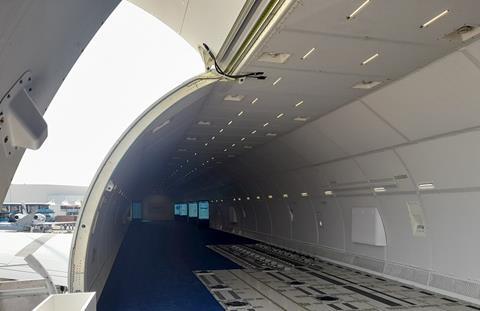 The 777-300ERSF is intended as a Boeing 747 and MD-11 replacement, and is being pitched at the centre of the "real world" market, with figures based on actual – rather than theoretical – cargo experience, says Morris.
He says some freighter models can "cube out" before reaching their full load limit, despite having high structural capability. At realistic volumes of around 120-127kg/m³ (7.5-8lb/ft³), he says, the 777-300ERSF will typically accommodate around 96t of revenue payload.
As part of the conversion the twinjet has its maximum zero-fuel weight raised by 15.4t to 253t and its maximum landing weight increased to 264t – providing greater structural flexibility – its maximum take-off weight remains unchanged at 351t.
It is fitted with a large aft freight door, with the passenger floor reinforced, smoke detectors and a roller system installed. The forward cabin has a supernumerary personnel area.
The jet will be offered with various configuration options, including the ability to transport GE90 or Trent XWB engines, if their fan and core are separated.
Two conversion sites – in Tel Aviv and Abu Dhabi – are currently set to accommodate 777-300ERSF modification, although Israel Aerospace Industries has indicated potential to expand to other locations in Korea and the USA.
Israeli authorities will certify the aircraft which will subsequently undergo validation by the US FAA, with other regulatory agencies following.