IAG chief Willie Walsh is firmly rejecting any notion that airlines which were struggling before the coronavirus outbreak should be granted state aid to help cope with its impact.
He told the A4E aviation summit in Brussels on 3 March that the outbreak was "not an excuse" for such carriers to ask for state assistance.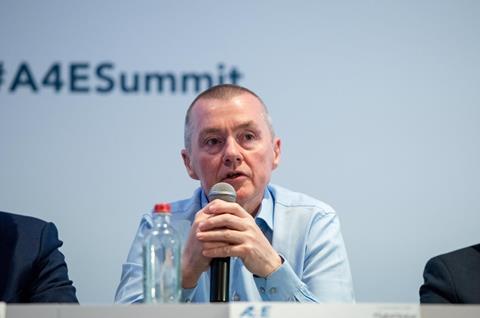 "I don't believe it's appropriate for governments to provide financial support to weak airlines," he said.
Lufthansa Group chief Carsten Spohr outlined the effect of the coronavirus situation on its operations, stating that the company had withdrawn the equivalent of 23 of 200 long-haul aircraft and up to 25% of its short-haul fleet, depending on developments. He says the outbreak has affected about a third of its Italian capacity.
While the fatality rate from coronavirus is relatively low, Walsh would not opine on whether the outbreak had generated an overreaction.
"I think it would be wrong for us to just dismiss it," Walsh told FlightGlobal during the event.
Air France-KLM chief Ben Smith said that there were a number of weak carriers in parts of the world, including Asia, and that he believed the outbreak would "accelerate consolidation" within the industry.
A4E has backed IATA's request for a temporary suspension of 80:20 slot-use regulations while the outbreak persists.
The European organisation used the coronavirus situation to reinforce its call, during the summit, for a review of air transport rules over taxation and legislation – pointing out that it amounts to an "extraordinary circumstance", which effectively frees airlines from compensation obligations.
A4E said the cost of compliance with passenger compensation legislation has increased 30% every year since 2011, costs which have eaten substantially into average yields, but managing director Thomas Reynaert said he was encouraged by the Croatian EU presidency's putting forward a revised framework on passenger rights.