Airbus's reduced productivity during the air transport crisis has obstructed its progress towards 13,000 deliveries, and it would need to hand over about 70 aircraft to reach the mark in October.
The airframer highlighted its 12,000th delivered aircraft in May last year, with an A220 to Delta Air Lines.
Analysis of Airbus figures indicates that – to record this total – the airframer was only counting 33 A220 deliveries, and not claiming the 37 Bombardier CSeries jets delivered before Airbus acquired the programme on 1 July 2018.
This is consistent with Airbus's methodology in its full-year 2018 figures, when it included only the 20 A220s delivered in the second half and not the 13 CSeries delivered by Bombardier in the first.
Airbus's delivery total at the end of September 2020, by the same reasoning, had reached 12,930 aircraft – leaving 70 more to pass 13,000.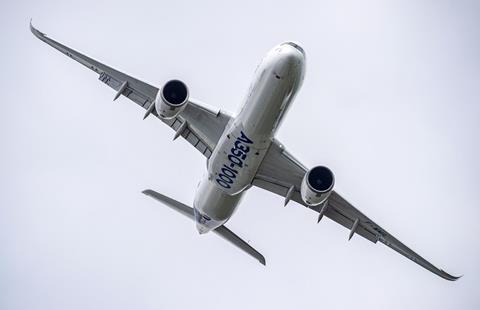 But the crisis in air transport has slowed production and delivery levels, and 70 aircraft in October would amount to a record monthly figure for 2020. Airbus's highest monthly delivery figure so far this year was 57 aircraft in September.
Airbus would probably have reached 13,000 deliveries around June-July this year had production and delivery rates been maintained at pre-crisis levels.