Embraer's largest re-engined E-Jet, the 195-E2, has secured certification to conduct the steep approach into London City airport.
The twinjet obtained the approval from the European Union Aviation Safety Agency.
It complements a similar EASA clearance for the smaller E190-E2 achieved two years ago.
London City has a short runway and a 5.5° glideslope, substantially steeper than the typical figure of 3°.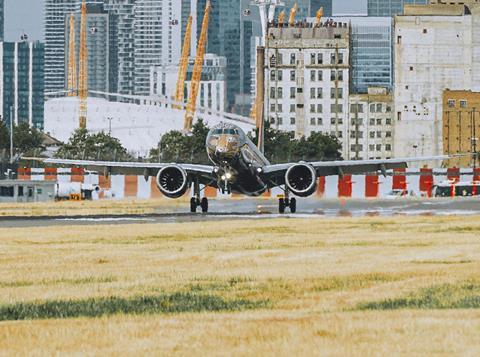 Embraer says its aircraft are "uniquely able to manage the challenges" of operating from the downtown UK airport.
Vice-president for sales and marketing, and head of region for Europe, Marie-Louise Philippe says the manufacturer's aircraft "dominate" London City's traffic.
"This is due to the performance of the aircraft that does not require seats to be blocked to reduce weight," she says.
The E195-E2 – powered by Pratt & Whitney PW1900G engines – carried out its first landing at London City in July last year.
EASA's clearance means the type, which typically has 120-130 seats, will be the largest aircraft able to operate at the airport.