ATR has obtained European approval for the manufacturer's purpose-built freighter, based on the ATR 72-600 airframe.
The manufacturer, which launched the programme in 2017 based on an order from cargo operator FedEx, stared flying the first example of the -600F in September.
It has since shown off the initial turboprop painted in the colours of the US carrier.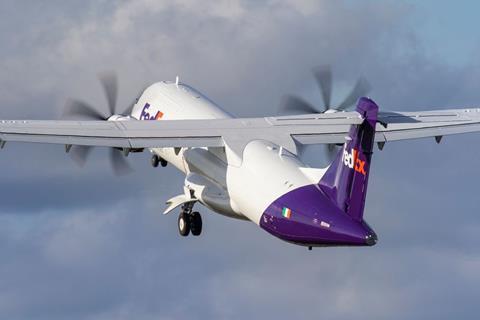 ATR says it has "received certification" from the European Union Aviation Safety Agency for the new aircraft.
While some older models of the ATR 72 have undergone conversion from passenger to freighter configuration, the new -600F is built for freight operations from the outset and fitted with a large cargo door during assembly.
It features a Class E cargo cabin for both bulk cargo and container transport, able to accommodate up to seven LD3 containers or – depending on size – five to nine pallets.
FedEx has ordered up to 50 of the freighters.