European authorities have formally approved a hike in the Airbus A220-300's maximum seating to 149 passengers, contingent on an overwing exit slide modification.
The aircraft had previously been limited to 145 seats.
Air France is planning to introduce its first A220-300 with a layout of 148 seats, due to be delivered to the carrier in September.
Introduction of an over-performing Type III exit, with a dual-lane overwing slide replacing the single-lane slide, enables the carriage of additional passengers, says the European Union Aviation Safety Agency.
EASA also points out that separate airworthiness approval is needed for the installation of the individual customised cabin layout as well as the necessary cabin adaptations up to 149 seats.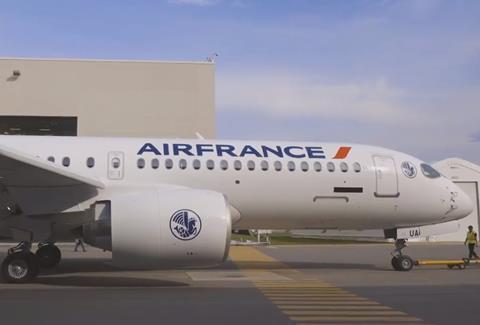 Similar exit slide modifications have enabled Airbus to add a few extra seats to the A320neo family.
Air Baltic and Swiss are the only other European operators of the A220, both of them fitting their -300 variants with 145 seats. Air Baltic had originally stated that it would take the -300s with a 148-seat configuration.
Czech Airlines had intended to operate its A220s with a 149-seat layout but the future of its order is uncertain following the carrier's filing for insolvency earlier this year.
Bombardier had previously unveiled a high-density 160-seat option for its CS300 – the aircraft which became the A220-300 following Airbus's acquisition of the programme – but this involved the addition of another pair of overwing exits.