Airbus has hiked the maximum take-off weight for the A350-1000 by 3t, to a total of 322t, regulatory documents indicate.
The airframer's documentation for the twinjet lists the MTOW of the -1000's highest weight variant as 319t.
But the Europe Union Aviation Safety Agency revised its type certificate data on 25 October to include a 322t take-off weight.
EASA also lists unchanged maximum landing and maximum zero-fuel weights of 236t and 223t respectively.
Airbus has confirmed the weight increase to FlightGlobal, adding that it "brings value to customers" by providing "additional flexibility and capabilities up to the longest routes".
"This is an example of how Airbus keeps developing its aircraft and increasing their value," it states.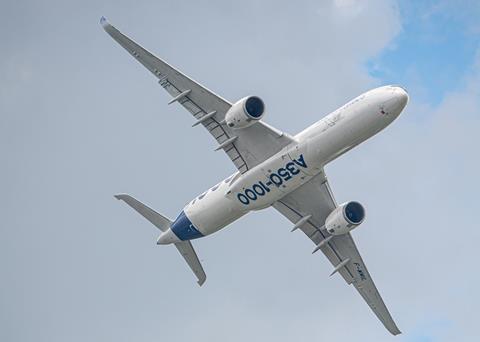 Higher take-off weights enable the aircraft to transport a greater payload over a longer range.
The airframer offered the 319t variant of the -1000 to Qantas for its planned 'Project Sunrise' long-haul services to Australia from London and New York.
Airbus is also capitalising on the -1000 airframe to support development of its new A350 freighter, for which it has declared a maximum take-off weight of 319t.