Operators of the Boeing 737 Max in Europe will be prohibited from conducting certain precision approaches until regulators are satisfied that the aircraft can maintain the necessary performance under specific failure conditions.
While the European Union Aviation Safety Agency has cleared the 737 Max to return to service, it has banned it from RNP-AR approaches – a category of approach that demands particularly precise navigation capabilities.
EASA says it has evaluated the impact of angle-of-attack or other air-data sensor failures on the accuracy of position, altitude or airspeed information required to conduct such approaches.
It says Boeing had "not conducted" suitable simulator or flight tests to examine such failures at the time of certification.
EASA opted to carry out its own assessment of various scenarios, using full-flight simulators, and found that these test results "did not fully support" the authority's regulatory objectives.
As a result EASA has introduced the limitation prohibiting RNP-AR operations. It says failure conditions that might lead to a loss of guidance are "not acceptable" for such approaches.
"EASA has not received sufficient data from Boeing to ensure that performance under failure condition actually meets the RNP-AR objectives and that RNP-AR operations can be safely conducted," it adds.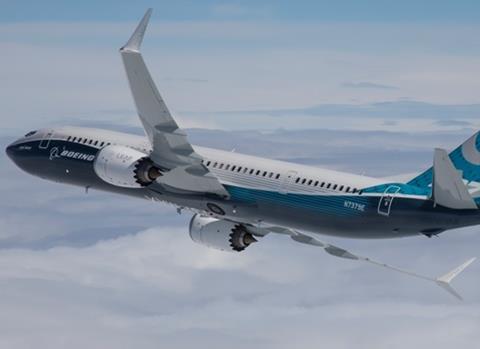 Boeing argues, in a formal comment during EASA's consultation, that it has "not yet completed" the activities required to demonstrate RNP-AR system behaviour in response to failure conditions – and that this is the reason why EASA has included the prohibition on performing the approaches.
"Given the [continuing work], Boeing believes that it would be premature to identify a potential risk before [these] activities are completed," adds the airframer.
Information submitted by American Airlines during the consultation indicates that pandemic-related travel restrictions have been partly responsible for the hold-up in completing the work, with EASA representatives unable to fly to Seattle and limited to carrying out only a few tests using a simulator at London Gatwick.
Although the RNP-AR prohibition did not feature in the US FAA's recertification of the 737 Max, EASA clarifies that a third-country authorisation holder is not permitted to carry out an RNP-AR approach to airports in EASA member countries using the aircraft.
EASA acknowledges that the prohibition will result in "operational restrictions" but says the availability of other approach options means the safety implication is "negligible".