Israeli carrier El Al's technological investment division Cockpit Innovation is showing off an artificial intelligence tool intended to increase turnaround efficiency at airports.
It will present the system – developed by one of its portfolio firms, IntellAct – at the World Aviation Festival event in London, which opens on 1 December.
The cloud-based tool uses video cameras to monitor the turnaround process in real time from the moment the aircraft arrives at the gate, automatically detecting the presence of various ground-service vehicles including catering trucks, airbridges, container trains, and loaders.
It times the process and alerts the relevant stakeholders if the performance is slower than expected, or if it detects safety violations, says IntellAct.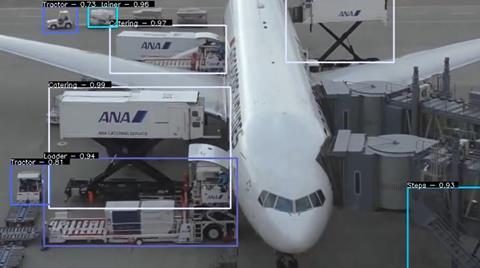 "It is machine-learning with no human intervention," says Cockpit Innovation general manager Oz Eliav. "The computer learns how each player looks and can identify it.
"By comparing what happened at each stage of the turnaround process with what should happen, it is easy to find out what, if anything, went wrong."
Cockpit Innovation, which has Boeing among its shareholders, invested in IntellAct and has been involved in a pilot project with El Al at Tel Aviv's Ben-Gurion airport.
"To keep airports and airlines profitable and effective, maintenance departments and ground-handling operations are under more pressure than ever to speed up aircraft turnaround times," says Cockpit Innovation, adding that IntellAct's system is designed to recognise "operational bottlenecks".