Embraer delivered a total of 141 aircraft last year, including 48 jets to the commercial sector, up from the 44 commercial airframes it handed over in 2020.
These 48 aircraft comprised 21 re-engined E2-family regional jets – a total of 19 E195-E2s and a pair of E190-E2s – plus 27 of the baseline E175.
Over the fourth quarter the airframer secured orders for 20 E195-E2s from lessor Azorra.
It also obtained orders for three E175s from American Airlines – to be operated by Envoy Air – and three E175s from Nigeria's Overland Airways, plus seven of the type from an unidentified customer.
These orders were partially offset by a five-aircraft reduction of Alaska Air Group's E175 commitment, from 42 to 37 aircraft.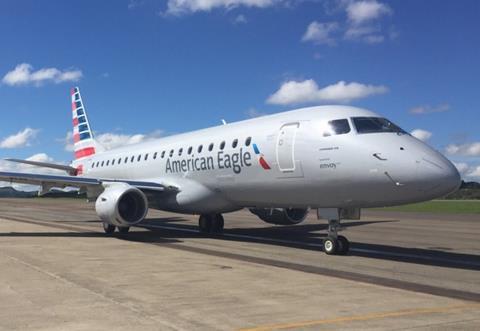 The agreements increased Embraer's commercial orders by 28 aircraft over the fourth quarter.
Sixteen deliveries in the same period – comprising 12 E175s and four E195-E2s – meant the commercial backlog rose by a dozen jets, from 313 to 325, in the fourth quarter and by 44 aircraft from the previous end-of-year figure of 281.
Embraer's executive jet business recorded 93 deliveries last year – of which 62 were light jets and 31 were mid-size models – including 39 in the fourth quarter.