Embraer has secured the first steep-approach approval for its re-engined E2 family, with certification of the 190-E2 variant.
Steep-approach approval is a condition of operations to certain airports including London City, which has a 5.5° glideslope – an angle nearly twice that of a typical glidepath, even after its reduction from the original 7.5°.
The UK Civil Aviation Authority says any glideslope exceeding 4.5° requires specific approval. London City is the only UK airport with such a feature.
Speed and flightpath control become more demanding with increasing approach angle," says the authority.
"The ability to track a steep approach path, especially to regain the glideslope from above, depends upon an aircraft having adequate residual throttle movement to make the necessary corrections."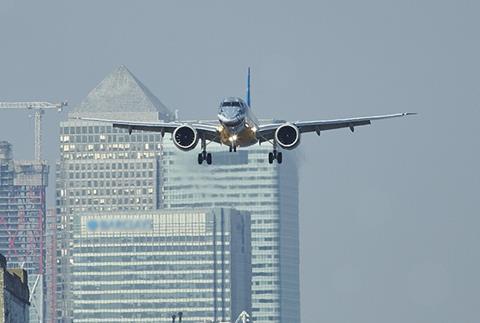 Embraer says the E190-E2 obtained European Union Aviation Safety Agency steep-approach certification on 11 May.
It uses a software upgrade an a 'steep approach' switch on the instrument panel to command a slight reconfiguration of the control surfaces. Cockpit commonality means E2 pilots already cleared for the London City approach on the earlier E190 do not need simulator training.
The E-Jet family has had a strong presence at London City, with the main carrier – British Airways' regional BA CityFlyer operation – using a fleet of nearly 30 E170s and E190s.
Carriers including KLM Cityhopper, Lufthansa, Alitalia and LOT have also used E-Jets for services to the downtown airport.
"Our investment in eight new Code C aircraft stands was made with this aircraft in mind," says London City chief operating officer Alison FitzGerald.
She says the E2, with its longer range, lower noise and increased fuel efficiency, will be a "game-changer" for the airport.
Embraer says the noise footprint for the E190-E2 is 63% smaller than that of the E190s operating from London City, and it will be the only aircraft operating at the facility to meet ICAO Chapter 14 noise standards, adopted by the ICAO Council in 2014.