Embraer is pushing back entry into service of the E175-E2 until 2023, although it insists it still intends to continue development of the re-engined twinjet.
The airframer says it has taken the decision based on current commercial aircraft market conditions.
Embraer says it believes the aircraft, which first flew in December last year, will become available with "more than adequate time" to meet market demand, and it will still offer its regular 76-seat E175 – for which it has a backlog of 159 jets.
The manufacturer has taken a $91 million impairment to its commercial aviation business during the second quarter, during which revenues sank by nearly 60%.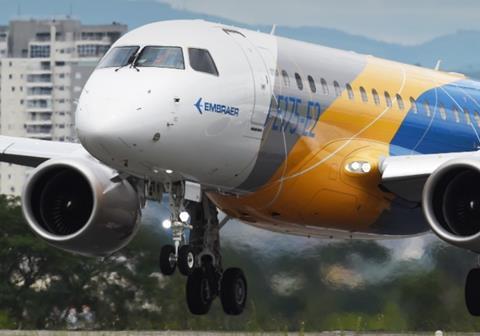 Although the Brazilian company recorded a second-quarter operating loss of $140 million before exceptionals, it has taken charges amounting to more than $200 million over the three-month period.
These charges included recognition of a depreciation and amortisation expense of $101 million for the commercial aviation business.
This relates to the reinstatement of the business as a continuing operation following the termination of the planned acquisition by Boeing. The depreciation and amortisation had been halted in February last year, when the Boeing partnership was approved.
Embraer has also recognised $16 million in provisions connected to expected credit losses during the coronavirus crisis.