European transport commissioner Adina Valean has signalled that guidelines will be set out by mid-May regarding an exit strategy to restart cross-border operations including air travel, but stresses that the timing depends on the health situation.
While speaking on 22 April, she was reluctant to pre-empt the finalisation of specific measures allowing flights to resume but indicated there would be guidelines on restoring travel and tourism this season, through such measures as social distancing, rules within airports and on board aircraft – covering such aspects as disinfection – and the wearing of protective equipment.
"Probably by mid-May we can put forward the strategy we're working on," she says, adding that it would feature "horizontal principles" of rules to be respected while re-opening travel connections.
Valean states that she "can't say" when services will be restored, because the health situation needs to be prioritised, but she emphasises that a co-ordination between member states is essential.
"It's better to have a harmonised approach than see each one taking its own measures," she adds.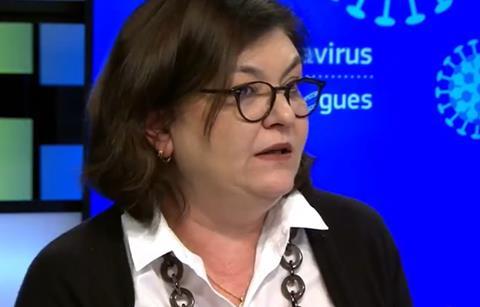 Health specialists will establish the criteria that European Union member states will need to accept in order to ensure a common approach to cross-border travel.
"We have to make sure health criteria are well-respected and in place before any relaxation in travel will happen," says Valean.
She suggests that social-distancing measures will need to continue in relation to air travel, the transport mode she says has been "hardest hit".
"I know for a fact this health crisis is here to stay for a long time, until we can find a good treatment or vaccine," she says. "I think the measures proven to be efficient, like social distancing, are going to be respected one way or another. For transport this is very important."
The Commission has already drawn up a joint 'roadmap' towards lifting containment measures in response to the need for an exit strategy.
"While the timing and specific modalities will differ between member states, it is essential that there is a common framework," it says. "Lack of co-ordination in lifting restrictive measures risks having negative effects for all member states and creating political friction."
Co-ordination, decision-making based on emerging scientific evidence, and solidarity and respect, are the three central principles which need to guide EU states' measures, it adds. It acknowledges that some of these principles were "put into question" early in the crisis, but that the situation has since improved.
The EU has outlined accompanying measures including mobile-enabled contact tracing, harmonised testing, and data gathering to reduce the "significant unknowns" regarding the extent of infection, particularly among asymptomatic individuals – as well as the "crucial" development of a vaccine.
Its roadmap does not refer to air transport in any depth, beyond mentioning its efforts to "minimise the impact" on operators through such measures as easing slot rules.
But it does indicate the thinking behind relieving restrictions on transport services in general, pointing to the need for a "phased approach" to opening internal and external borders and restoring normal Schengen area functioning.
"Travel restrictions and border controls currently applied should be lifted once the border regions' epidemiological situation converges sufficiently and social-distancing rules are widely and responsibly applied," it states.
"Restrictions on travel should first be eased between areas with comparably low reported circulation of the virus."