Boeing aircraft imported to the European Union are to carry a 15% tariff after European regulators imposed their own countermeasures in the long-running transatlantic subsidies dispute.
The measures will take effect from 10 November, following the World Trade Organization's authorisation on 26 October for the EU to place duties worth $4 billion on US exports.
Last year the US government was granted similar clearance to introduce $7.5 billion worth of tariffs on EU imports. As part of these measures it put a 10% duty on Airbus aircraft, and subsequently increased this level to 15%.
The European response is intended to "strictly mirror" the US tariff, says the European Commission, in line with its intention to retaliate to, rather than escalate, the dispute.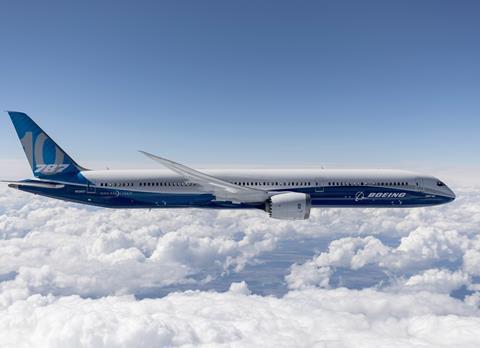 European trade commissioner Valdis Dombrovskis says the tariffs on Boeing aircraft are being introduced "regrettably" because insufficient progress has been made on reaching a negotiated settlement.
"We have made clear all along that we want to settle this long-running issue," he says.
"We had no other choice but to impose these countermeasures."
While the tariffs were put in place during the term of US president Donald Trump, the dispute has persisted through previous presidential administrations.
There is no immediate indication as to whether president-elect Joe Biden's accession to office will unlock the stalemate.
But Dombrovskis says there is an "opportunity to reboot our transatlantic co-operation".
"We call on the US [authorities] to agree to both sides dropping existing countermeasures with immediate effect, so we can quickly put this behind us," he adds.
"Removing these tariffs is a win-win for both sides, especially with the pandemic wreaking havoc on our economies."
Along with the 15% tariffs on aircraft the EU will impose additional 25% duties on other US products in the industrial and agricultural sectors.
US trade representative Robert Lighthizer says the US government is "disappointed" by the EU's decision.
He points out that a key point of contention – the tax break to Boeing offered by Washington state – was eliminated at the beginning of April this year.
Lighthizer has previously argued that this adjustment leaves the EU with no lawful basis on which to impose tariffs.
"[This] alleged subsidy to Boeing was repealed seven months ago," he says. "The EU has long proclaimed its commitment to following WTO rules, but today's announcement shows they do so only when convenient to them."