Eurocontrol is blaming a lack of crisis co-ordination among countries for handling air travel, after it revised downwards its expectations for traffic recovery to early 2021.
Director general Eamonn Brennan says the situation is "going backwards" and that the development is "really worrying" for the airline industry.
Eurocontrol puts the total loss of revenues for airlines, airports and air navigation services within Europe at €140 billion – higher than the previous forecast, published in April, of €110 billion.
The recovery track of this previous forecast had remained accurate up to the end of August, at which point traffic had increased to half its pre-crisis level.
But the latest data shows that the recovery has stalled, and even started to recede, and Eurocontrol is forecasting that traffic volume will remain 50-60% down over the winter season to February 2021.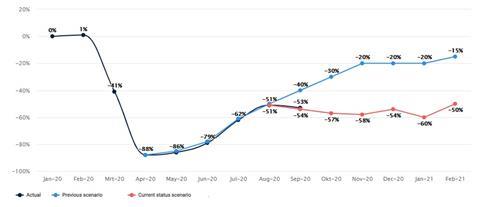 The previous model, which had correctly predicted monthly traffic recovery levels to within 1%, had assumed that – if the trend stayed positive – the recovery could continue throughout the rest of this year, to just 15-20% down during the winter.
But the introduction of "individual and unco-ordinated" national restrictions, quarantine and testing measures – often with "very short notice", it says – has generated confusion and erosion of passenger confidence.
"Forward bookings for airlines over the coming months are extremely low," it adds.
Eurocontrol's latest scenario forecast assumes a continuing lack of co-ordination regarding cross-border air travel, low passenger demand in the leisure and business segments, and a further reduction in capacity among airlines.