Members of the European Parliament have adopted new draft rules broadening the definition of sustainable aviation fuels and accelerating availability levels in a bid to achieve 2050 climate targets.
Parliament has raised – from 32% to 37% – the European Commission's original proposal for minimum availability of sustainable fuel at EU airports in 2040.
But it has also considerably hiked the 2050 figure, from 63% to 85%. The new levels take into account the potential of electrical and hydrogen fuel in the overall mix.
The near-term figure is 2% from 2025.
Parliament has amended the proposed definition of sustainable aviation fuel, including recycled carbon fuels and industrial exhaust gases. Certain biofuels produced from animal fats or distillates could be included in the mix until 2034.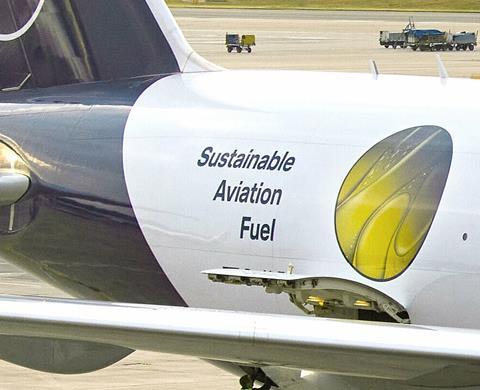 But the members have excluded feed and food crop-based fuels, and those derived from palm oil, soy-derived materials and soap stock. The Parliament says these "do not align" with proposed sustainability criteria.
Renewable electricity and hydrogen are both "promising technologies" that can contribute to decarbonisation, the Parliament adds.
"According to the draft rules, EU airports should facilitate the access of aircraft operators to sustainable aviation fuels, including with infrastructure for hydrogen refuelling and electric recharging," it says.
The European Commission will be tasked with developing a labelling system on aircraft, operator and commercial flight environmental performance by 2024.
Members also proposed creating a sustainable aviation fund from next year, in order to push forward decarbonisation efforts in the sector and support investment in new propulsion technology and sustainable fuel. Enforcement of sustainability rules would help generate income for the fund.
tasked the Commission with developing by 2024 an EU labelling system on the environmental performance of aircrafts, operators and commercial flights.