United Aircraft is preparing to transfer primary structures for an initial Ilyushin Il-114-300 to the final assembly line at RSK MiG's Lukhovistsy plant near Moscow.
The manufacturer is describing the initial aircraft as a "prototype" being built using serial-production technologies.
Three fuselage sections for this aircraft have been completed at the Sokol manufacturing plant in Nizhny Novgorod, where MiG fighter components are produced. They will be transferred to Lukhovitsy by the end of May.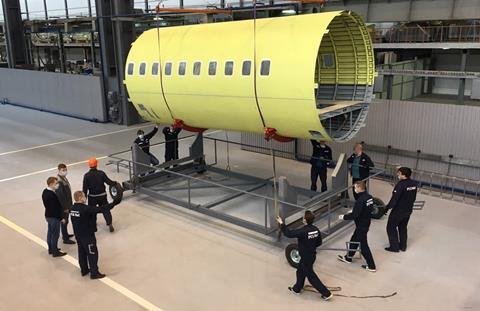 MiG general director Ilya Tarasenko says the company invested Rb400 million ($5.6 million) last year to prepare for Il-114 production and diversify its activities, with automated docking facilities among the new installations.
The -300 is a 68-seat modernised variant of the Il-114 twin-turboprop. Production is being restarted to address demand for regional domestic transport, particularly in remote areas, and replace older Antonov types used on these routes.
Fuselage panels, doors and hatches are being produced at the Aviastar plant in Ulyanovsk while the VASO plant in Voronezh is manufacturing wing and tail sections.
VASO will build about 40% of the airframe components, says acting managing director Alexander Yarchevsky. Work is under way to produce the fin, rudder, stabiliser and elevator. Wing sections will have multiple mechanical and electrical systems fitted.
"Preparations are underway for the production of engine nacelles of the new aircraft," he adds. "Their assembly is scheduled to begin in June."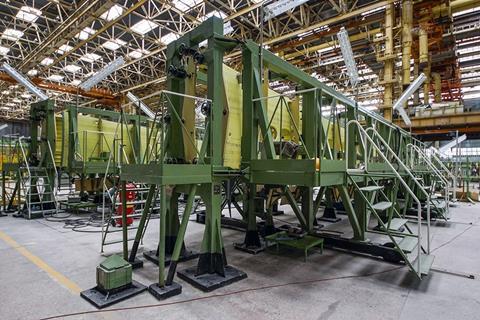 United Aircraft director of aviation programmes Sergei Kamensky says the Il-114-300 will be built "entirely from domestic components" with leading Russian manufacturers supplying systems and equipment.
Tarasenko points out that the project is utilising digital technology to enable Ilyushin's design bureau and production sites to operate from a "single information space".
Potential operators of the Il-114-300 will include not only airlines but cargo and combi carriers, as well as special-purpose companies. The type could be fitted with ski-wheels and the Il-114 will also be capable of serving airports with unpaved runways.