US president-elect Joe Biden has nominated former presidential candidate Pete Buttigieg as his choice for secretary of transportation.
Buttigieg was the mayor of the Indiana city of South Bend and former intelligence officer in the US Navy Reserve.
He entered the race for the presidency last year but ultimately dropped out in March 2020, subsequently endorsing Biden's campaign.
Buttigieg would succeed current transportation secretary Elaine Chao, who has been in the role for nearly four years under president Donald Trump's administration.
He will inherit a US aviation system which has only just begun to recover from the coronavirus pandemic, one which has embarked on the logistical effort of mass transport of the newly-developed vaccine.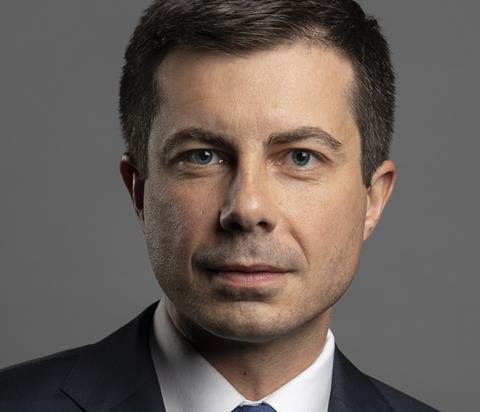 The latest US Department of Transportation air travel consumer report, released in November, showed that the 10 marketing network carriers recorded nearly 345,300 scheduled flights in September – but this was still barely half the figure of over 660,700 in the same month last year.
But this was nevertheless approaching double the number of flights in May, the "all-time monthly low" according to the department.
Biden describes Buttigieg as a "patriot and a problem-solver", adding: "I am nominating him for secretary of transportation because this position stands at the nexus of so many of the interlocking challenges and opportunities ahead of us.
"Jobs, infrastructure, equity, and climate all come together at the [Department of Transportation], the site of some of our most ambitious plans to build back better."
Buttigieg is an "outstanding choice", adds US vice-president-elect Kamala Harris. She says that he is "deeply committed to bringing people together and upgrading our transportation system in a way that serves Americans of all backgrounds and communities of every size".