Germany's air force is to withdraw two Airbus A340s used for governmental flights after a recurring technical incident forced the cancellation of a high-level foreign ministry visit.
One of the A340-300s had been transporting a delegation including foreign minister Annalena Baerbock on a diplomatic trip to Australia, New Zealand and Fiji.
But the German air force says the aircraft, departing after a stop in Abu Dhabi on 14 August, suffered a fault which prevented retraction of the flaps.
The A340 returned to Abu Dhabi and underwent check flights, which indicated "no problems", according to the air force.
But the German foreign ministry's spokesman – having initially stated that the issue had been resolved, and the trip was continuing – subsequently expressed frustration after the jet took off.
"The technical problem has just reappeared, despite the previous flight tests," he said. "We are returning to Abu Dhabi again. This is very annoying."
Baerbock stated that continuing the trip with an alternative aircraft was "logistically impossible".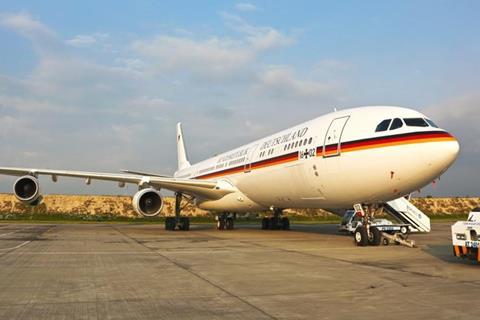 While the air force has taken delivery of three Airbus A350-900s for governmental service, none was available for the Pacific flight.
But the situation appears to have spurred the acceleration of the A340s' retirement.
"We will take the two A340s out of service as soon as possible – that is, in the coming weeks," says the air force.
It states that one – designated 16+02 – had already been due to be withdrawn in September, while the aircraft in Abu Dhabi, 16+01, was supposed to follow at the end of 2024.