Germany's air force has formally taken delivery of its first Airbus A321LR, one of a pair which have been modified for multi-purpose operations by Lufthansa Technik.
The aircraft (MSN10613), handed over during an event at the ILA air show in Berlin on 23 June, is powered by CFM International Leap-1A engines.
Lufthansa Technik placed the order for the two A321LRs in July 2020.
It modified the aircraft under a programme designated 'Project Pluto', in line with the company's choosing the names of gods or planets for confidential work.
Conversion commenced in December last year, and the initial aircraft was adapted with 136 seats for flexible troop and passenger transport, as well as parliamentary flight operations, with the capability to fly transatlantic routes.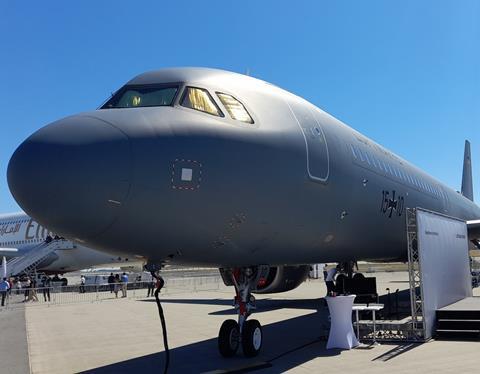 Lufthansa Technik chief operations officer Soren Stark says the cabin of the twinjet is "precisely tailored" to the needs of the air force, and the company has "succeeded in meeting the high demands" of its customer.
German state secretary of the defence ministry Benedikt Zimmer highlights the speed of the procurement.
"Only two years have passed from the financing commitment to delivery of the aircraft," he says.
The aircraft has been finished in a military grey livery and bears the identification '15+10'.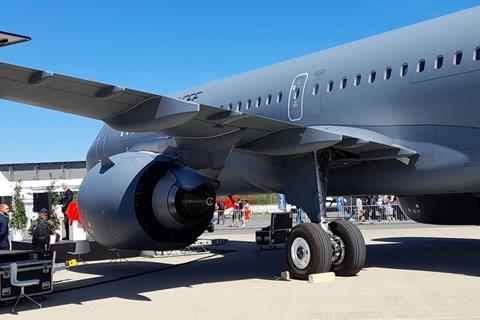 "Our new Airbus will soon be flying west across the Atlantic to pick up navy exchange crews in Latin America," says German air chief Lieutenant General Ingo Gerhartz. He adds that it will fly personnel to Lithuania and locations in Africa.
Lufthansa Technik says it has developed four different configurations to enhance the aircraft's flexibility, and that a medical evacuation interior is also in progress for introduction next year.
It will be able to accommodate up to 12 patients, or six in intensive care. Modification work for this role has already included installation of an enhanced oxygen supply system.
"This A321 will shoulder an enormous mission package and help save lives," says Gerhartz.
Transformation of the jet has included fitting 4,600 new wiring harnesses and meeting 250 means of compliance.