Israeli lessor Global Knafaim Leasing is embroiled in a dispute over the sale of an Airbus A330-200, after the prospective buyer pulled out of the deal.
Global Knafaim says the purchaser notified the lessor on 9 March that it was cancelling the deal, claiming that the aircraft does not meet the conditions set out in the agreement.
The purchaser – whose identity has not been disclosed – has also demanded return of a $2 million down-payment on the twinjet.
But Global Knafaim has rejected the purchaser's argument, insisting the aircraft is ready for delivery and that the purchaser has terminated the contract unlawfully and "in bad faith".
It says it will "examine available options" following the buyer's withdrawal and consider alternative avenues to lease or sell the aircraft to another customer.
Global Knafaim had been hoping to complete sale of the aircraft by the end of February, after months of uncertainty.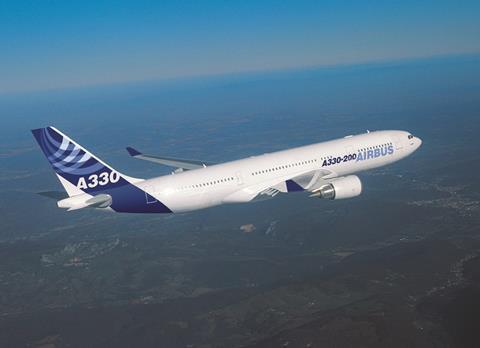 It had originally intended to lease the aircraft to Cypriot carrier TUS Airways last year, but this was held up by matters including findings relating to the twinjet's engines and the decision by European regulators not to extend permits for aircraft to be converted to temporary freighters.
Global Knafaim started exploring alternatives, initially reaching a provisional agreement to lease the aircraft to a different customer from around October-November 2022.
But this fell through after the customer was unable to proceed with the transaction, owing to developments in its activities, and Global Knafaim subsequently entered a letter of intent with a third party to sell the aircraft to a new operator.