Airbus's large orders from Indian carriers have taken the airframer's net orders into four figures for the first half of this year.
IndiGo's agreement for 500 aircraft – unveiled at the Paris air show – currently comprises 375 A321neos and 125 A320neos, according to Airbus's backlog data to the end of June, although the final composition has yet to be determined.
Airbus has also formally booked the Air India deal for 70 A321neos and 140 A320neos, plus 34 A350-1000s and six A350-900s.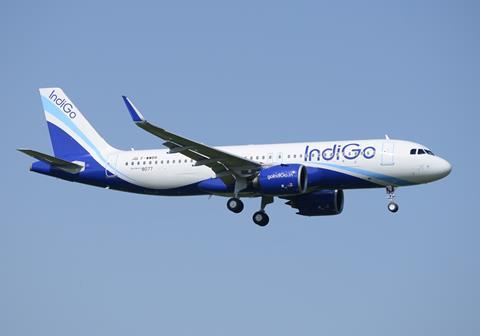 The airframer's net order total for the six-month period has reached 1,044 aircraft, 900 more than in May.
Its Indian agreements during June were complemented by several other orders.
Undisclosed customers signed for 94 aircraft, comprising 10 A350-900s, six A330-900s, 66 A320neo-family jets, and 12 A220-300s.
Middle Eastern carrier Flynas's order for 30 A320neos, an IAG deal for 10 A320neos, Qantas's top-up of nine A220s, and Philippine Airlines' confirmation of its nine A350-1000s rounded off the busy month's activity.
Airbus delivered 316 aircraft in the first half of the year, handing over 72 during June. The airframer is expecting to deliver a total of 720 this year.