United Aircraft has rejigged the management of its Ilyushin division, as it looks to resume flight-testing of the Il-114-300 turboprop and make preparations to fly the new Il-96-400M.
Daniil Brenerman has been appointed as Ilyushin managing director, while predecessor Sergei Yarkovoy will head its board of directors.
Brenerman was previously a deputy at the division and responsible for programme implementation.
State technology firm Rostec says the changes are a "continuation of reforms" started more than two years ago intended to increase aircraft production and make programme management more efficient.
Yarkovoy, it says, has stabilised Ilyushin's work and assisted with streamlining control over several United Aircraft divisions. Ilyushin's Aviastar airframer raised annual production of Il-76MD-90A heavy transports last year to five.
"The task is to further increase the rate of aircraft output," says Rostec, adding that the company's strategy includes modernising interaction between the design and engineering sides, and reducing project times with unified digital operations – while also ensuring that employees have sufficient training and are motivated with higher salaries.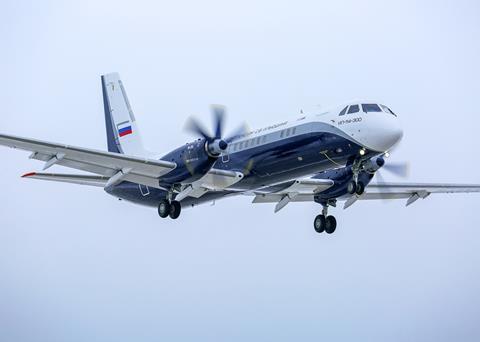 Construction of initial Il-114-300 examples is continuing – two aircraft are in a "high degree of readiness" on the final assembly line, says Rostec – and preparations for serial production are underway.
The Il-114-300 programme has been held up following the 2021 loss of an Il-112V prototype, which used the same engine.
Russia's federal aviation regulator, Rosaviatsia, has recently certified the Klimov TV7-117ST-01 powerplant which includes a six-bladed propeller.
Rostec says Ilyushin, Aviastar and the Voronezh-based airframer VASO are increasing the volume of component production for the Il-114-300, and "resumption of flight tests" is among the "priority tasks" for the company's civil aviation strategy.
Organisation of future flight tests for the Il-96-400M – a larger, modernised version of the four-engined Il-96-300 – is also listed.
Rostec points out that Brenerman is highly experienced, having overseen the Yakovlev division which has been handling testing of the Irkut MC-21. The MC-21 test regime has recently included flights with the Russian-built Aviadvigatel PD-14 engine and the domestic composite wing.