Boeing has reiterated that achieving consensus among national aviation regulators will be key to ensure a successful return to service for the 737 Max, which has been grounded since March this year.
"If we do not coordinate this [return to service] we may see some disaggregation, and I don't think that's a future any of us wants to see," says Dennis Muilenburg, Boeing chief executive, speaking to media in Seattle.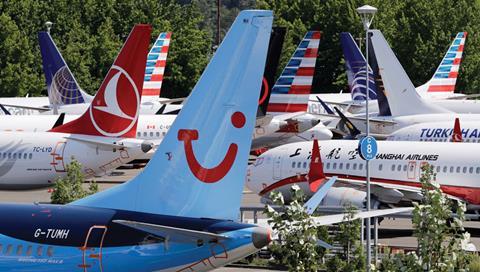 For that reason, Muilenburg declines to provide a return to service date but the industry believes March 2020 is likely.
The 737 Max was grounded in the wake of fatal crashes in October 2018 and March this year which killed a combined 346 people.
In both cases, a controversial feature called the Manoeuvring Characteristics Augmentation System (MCAS) appears to have been erroneously triggered by faulty or damaged angle-of-attack (AoA) sensors, repeatedly pushing the nose of the aircraft down until the crews lost control.
Muilenburg says he is confident that the combined hardware and software changes Boeing has developed for the MCAS will satisfy the US Federal Aviation Administration (FAA) and the multinational Joint Operations Evaluation Board which are evaluating the single-aisle.
Boeing test pilot Craig Bomben, who was at the controls for the 737 Max's first flight and has coordinated development activity on the type since the accidents, says Boeing's proposed solution is "an intelligent system" against the original "very simple" iteration.
MCAS was introduced to make the 737 Max handle more like its 737NG predecessor alos effectively providing an element of stall protection when the aircraft is at low speed with the flaps up – at a high angle of attack - and being flown manually.
Bomben says the new system will draw data from two AoA sensors rather than one, and if their readings differ by 5.5° or more, MCAS is not triggered.
But if it is correctly triggered, the system memorises how much stabiliser displacement has taken place each time, so if it is activated more than once, it takes account of existing displacement and sets a safe absolute cumulative limit.
Despite the grounding, Max aircraft continue to roll off the production line at Boeing's Renton plant near Seattle at a rate of 42 per month, a reduction on the previous rate of 57 per month.
The completed aircraft, however, are placed into storage at Moses Lake in Washington state or San Antonio, Texas desert sites, because parking areas in the Seattle area are full.
Muilenberg says every parked 737 Max will have an individual service re-entry programme. In the meantime, the engines, systems and cabin of all the aircraft are regularly being run and maintained. Every airframe, he explains, "has Boeing's touch on it."