Irkut has secured initial Russian type certification for the MC-21-300 twinjet, four-and-a-half years after the aircraft's maiden flight.
The MC-21-300 variant is powered by Pratt & Whitney PW1400G engines.
Federal air transport regulator Rosaviatsia's chief, Alexander Neradko, says: "Issuance of a type certificate for the new aircraft was the result of work carried out by a close-knit team."
The aircraft, whose structure is about 40% composite, has capacity for 163-211 passengers and certification marks the entry of a competitor in the single-aisle sector dominated by the Airbus A320 and Boeing 737.
"Obtaining a type certificate…is the most important event for the MC-21 programme and the aviation industry," says state technology firm Rostec's chief, Sergei Chemezov.
"It has a number of design innovations and the widest salon among classmates. I am sure both airlines and passengers will appreciate this."
Aeroflot Group carrier Rossiya is set to be the first operator of the type.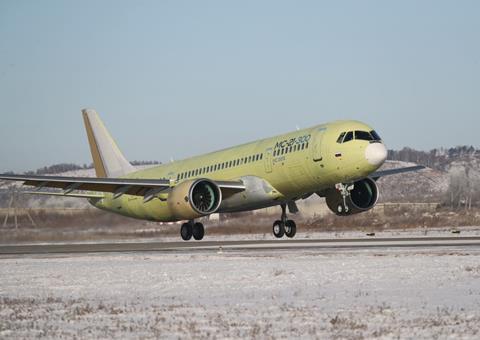 "Thanks to the MC-21, a technological revolution is taking place in the Russian aircraft industry," says United Aircraft general director Yuri Slyusar.
"New materials for wing fabrication have been developed and are being produced. The design, production and testing of aggregates made of composites has been mastered. Advanced technologies of modular assembly have been introduced."
He says the aircraft will address the segment of the air transport market which experiences the largest demand, and that more than 800 airframes in this sector will be required in Russia over the next 20 years.
"Having proved the efficiency of the aircraft in the domestic market, we will go out to the international market as well," Slyusar says.
The MC-21-300 first flew in May 2017.
But the aircraft has undergone revision, notably with the inclusion of domestically-produced composite wings.
Irkut general director Andrei Boginsky says the type certificate will be expanded in 2022 to cover the introduction of the Russian composite wing, featured on all MC-21-300s built since earlier this year.
"We will also test the airliner in high-altitude conditions, strong crosswinds, and low and high temperatures," he adds, enabling Rossiya to operate the aircraft in "any geographic area".
Rosaviatsia says it will continue to work on broadening the operating range of the aircraft, and similarly certifying the MC-21-310 variant which is powered by domestically-built Aviadvigatel PD-14 engines.