Italian and Libyan carriers have conducted services between their countries' respective capitals, to mark a reinstatement of air links absent for a decade.
ITA Airways operated the Rome Fiumicino-Tripoli route with an Airbus A320 on 24 July, while Libya's MedSky Airways carried out a reciprocal service on the same day, also with an A320.
Italian civil aviation regulator ENAC states that the commercial link is the result of "long work" carried out in co-operation with the Italian embassy in Tripoli, the Italian security services, and Libyan authorities.
This "fruitful collaboration", it says, has resulted in an agreement for "overcoming" the European Union blacklisting which barred all Libyan operators in 2014.
Libyan authorities had voluntarily suspended flights by several operators to Europe in 2012, but a deterioration in the geopolitical situation in Libya resulted in the subsequent formal blacklisting.
The European Commission's latest blacklist update, published in June, continued to list all Libyan carriers as being banned.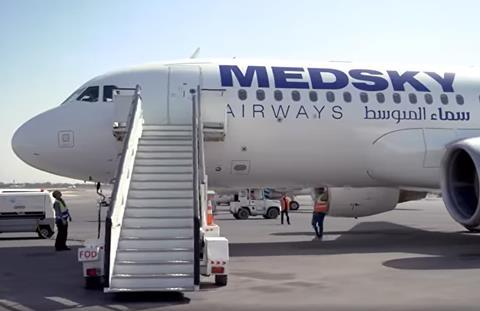 Government officials from both countries were on board the flights.
ITA states that it supports the Italian efforts to re-open air connections to Libya, and adds that it is considering operations to Libya from next winter.
ENAC says MedSky is set to start operating to Italy from next autumn, "strengthening connections" between the two countries.
MedSky says its "historic journey" was conducted with aircraft 5A-MSB, adding that it will resume Rome flights "soon". ITA's service used EI-DSW.
Italian organisations including the air navigation service ENAV have been participating in the modernisation of airport and air traffic infrastructure at Tripoli's main airport as well as the capital's Mitiga airport.