Kyrgyzstan's main airport operator is to acquire a pair of De Havilland Dash 8-400s in line with a government initiative to improve accessibility to air travel.
The operator of Bishkek's Manas international airport has disclosed that it signed an agreement with the Canadian airframer in Brussels on 10 September.
It states that it is purchasing the two aircraft "for the first time", adding that the acquisition is being made "at its own expense".
Both aircraft will be delivered in May 2024. They will be modified in accordance with Kyrgyz civil aviation requirements.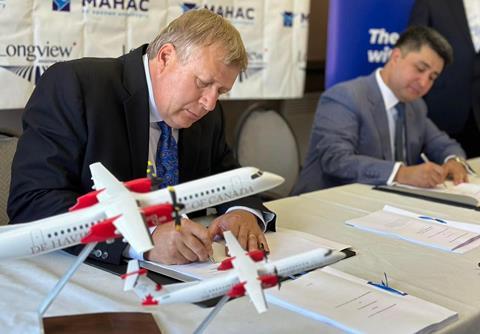 The operator says it aims to prioritise solving "social problems" – specifically those associated with availability and cost of tickets for domestic flights – in line with strategic initiatives from the Central Asian country's president.
"This agreement was made possible thanks to the determined efforts of the airport management," the operator states.
"Acquisition of these aircraft is a key step in the development of civil aviation in [Kyrgyzstan]."
It has not detailed the planned Dash 8 operation, stating only that they will be used to expand the domestic route network and "significantly increase the level of aviation services" for the Kyrgyz population.