United Aircraft has conducted the maiden flight of the latest production Ilyushin Il-96-300, an aircraft which will be delivered to the Russian government as a special operations platform.
The four-engined jet – registered RA-96024 and fitted with Aviadvigatel PS-90A powerplants – lifted off from the Voronezh facility of airframer VASO on 9 April.
"This aircraft is undergoing a series of factory tests for subsequent transfer to the customer," says VASO.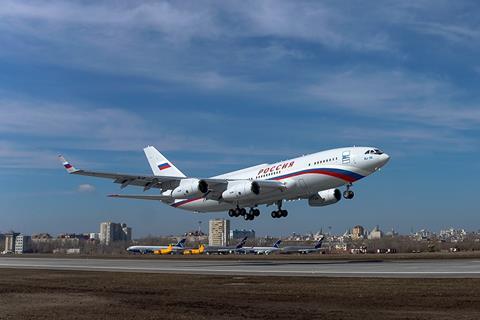 It states that the Il-96 flew for about 2h, operating at altitudes from 5,000-9,000m (16,400-29,500ft).
The crew assessed the stability and controllability of the jet, and the functioning of various systems, and tested radio equipment during the descent.
"According to the captain, the flight's mission has been fully completed," says VASO.
Managing director Farit Sharafeev says the Il-96 is providing the main source of work for the facility, with about 70% of its staff working on the programme.
"We have accumulated enormous experience in the production of such craft," he adds.
VASO says this latest Il-96 is fitted with modernised flight and navigation systems, and also features a paint coating that provides "additional protection" to the jet's airframe.