Irkut has transferred its fourth MC-21-300 flight-test aircraft to Ulyanovsk to undergo painting, six months after it first flew.
The aircraft, fitted with Pratt & Whitney PW1400G engines, carried out its maiden flight in December last year and was moved to Moscow Ramenskoye to join the rest of the test fleet in March.
Irkut says the twinjet, number 73056, was flown from Ramenskoye airfield, the centre of the certification campaign, to Ulyanovsk's Spektr-Avia paint facility on 10 June.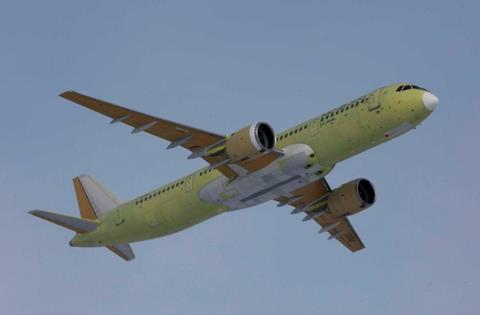 It will be painted in the same colours previously used for the second and third flight-test MC-21s. The 90min transfer flight was carried out smoothly, the airframer says.
"The predominant white color allows the high quality of fuselage manufacturing, achieved by implementing advanced automated assembly technologies, to be shown," it adds.
Irkut says it is intensifying the certification effort, adding that three flight-test aircraft were simultaneously airborne on 4 June.