Irish-based lessor SMBC Aviation Capital is ordering another 25 Boeing 737 Max jets, taking its commitment to the type to 81.
SMBC will take delivery of the aircraft over the course of 2028-29, the lessor states.
Boeing indicates that all the jets in the top-up agreement are Max 8s. The leasing company values the agreement at more than $3.7 billion, based on catalogue prices.
"This transaction demonstrates our commitment to provide our customers with the latest technology, most fuel-efficient aircraft, as they seek to meet their own sustainability objectives and reduce operating costs," says SMBC Aviation Capital chief Peter Barrett.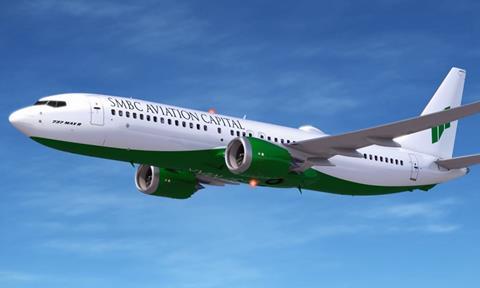 All 737 Max jets are powered exclusively by CFM International Leap-1B engines.
Barrett says the lessor's customers have demonstrated "clear long-term demand" for the 737 Max, adding that the order prepares the company for future growth.
Alongside its orders for 81 737 Max jets, the lessor owns or manages 65 more – part of a portfolio of 711 aircraft.