London City airport has switched over to a remote digital control tower, with its operations controlled from a facility located at the southern UK's en route centre in Swanwick.
Controllers at Swanwick, which is 115km south-west of the airport, have access to live video and other information relayed from a 50m tower at London City, completed in 2019.
Air navigation service NATS says all flights on the summer schedule are being managed by the remote system, following "intensive testing" and live trials which took advantage of the quieter periods arising from UK pandemic restrictions.
Remote towers have evolved over the last decade, particularly at low-traffic airports in Scandinavia, and the technology has been increasingly tested at larger and busier facilities.
NATS says the "step-change" technology will enable the airport to meet increasing demand as pandemic-related travel restrictions are eased from mid-May.
"Digital tower technology tears up a blueprint that's remained largely unchanged for 100 years, allowing us to safely manage aircraft from almost anywhere," says operations director Juliet Kennedy.
The organisation stated in 2017 that London City would be the first UK site to transfer to a remote tower.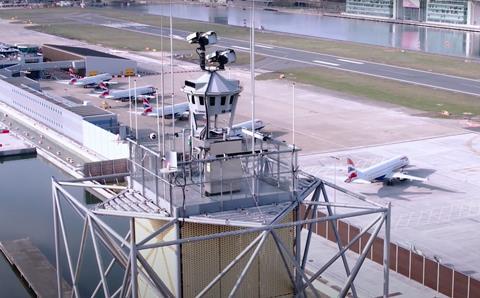 Dedicated controllers at a Swanwick operations room are presented with a 360° panoramic live view of the airport, on 14 screens, transmitted by 16 high-definition cameras and sensors across fibre connections, as well as audio information and radar data.
NATS says the visual picture can be overlaid with digital data – including callsigns, altitudes, speed and weather – to give controllers an "enhanced reality" view. Cameras with pan, tilt and zoom capabilities can provide 30-fold magnification.
Kennedy says such valuable tool would be "impossible" to install in a conventional control tower, such as the 30-year old building at London City which the digital system replaces.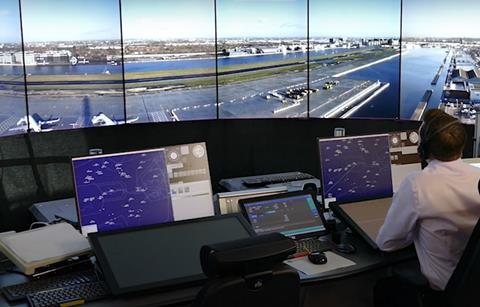 Swedish remote tower specialist Saab Digital Air Traffic Solutions has developed the technology deployed at the airport.
"Since going operational at the end of January, the technology has worked really well," says London City chief operating officer Alison FitzGerald.
"This investment in smart infrastructure will help us meet future growth in passenger demand, improve air traffic management and give us enhanced capability as aviation bounces back from the pandemic."