London Heathrow is to restructure and "shrink" the hub's operations while the coronavirus situation persists, the airport's operator has advised.
The airport will remain open, enabling vital freight services – as well as a limited number of passenger services – to continue.
But the operator warns that its financial performance will be "significantly impacted", given the reduction of services by carriers including IAG-owned British Airways, the hub's primary user.
Passenger numbers were already down by nearly 5% in February, before the scale of coronavirus-related cancellations soared.
"We are taking a number of immediate actions to safeguard the financial resilience of the business," says the airport company.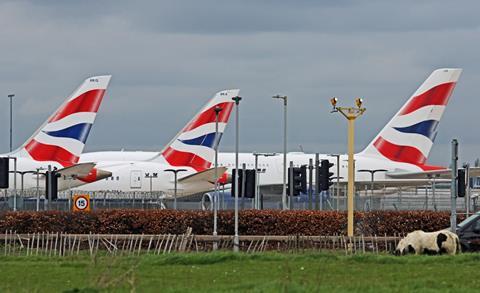 These measures include a review of capital projects, cutting operating costs, reducing executive salaries and freezing recruitment.
"Prudent management over the past decade means that our business is well funded and in a robust financial position," says the operator, adding that the UK government has indicated support for the country's air transport sector.
The company is waiving aircraft parking fees, which will enable airlines to ground fleets without financial penalty.
It has not specified whether infrastructure – such as terminals or runways – are set to be closed as part of the operational reduction.