Flight operations at London Heathrow are being cut back to avoid noise disruption during the state funeral of Queen Elizabeth II.
The airport's operator says operations on the day, 19 September, will be "subject to appropriate changes" to prevent disturbance.
According to a NOTAM, a demand-and-capacity balancing is being implemented to "facilitate requirements" for the late monarch's funeral.
This includes a 40% schedule reduction in departures and corresponding reduction in linked arrivals mandated across all terminals from 13:45 to 20:00.
Windsor Castle lies some 8km west of Heathrow and is situated close to the approach path to runway 09L. The period featured in the NOTAM appears to coincide with the timeline of events at the castle.
"Airlines will need to adjust their schedules accordingly, which will mean some changes to flights," says Heathrow's operator.
"Heathrow and airlines are working closely with [air navigation service] NATS to minimise the impact of these restrictions on passengers."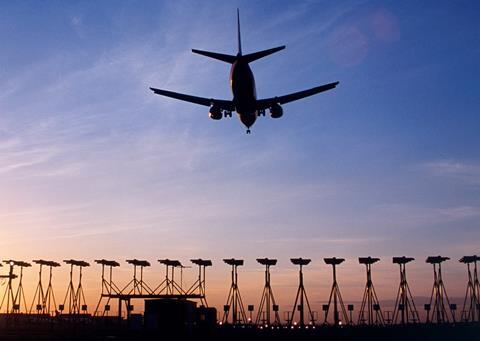 The Civil Aviation Authority believes the state funeral will be considered "extraordinary circumstances", outside of airlines' control, which means passengers will not be able to claim compensation for cancelled flights.
But the authority states that, if a flight is cancelled, the airline should ensure that passengers are offered alternative travel arrangements or a full refund.
NATS is imposing airspace restrictions in the vicinity of central London and Windsor Castle on 19 September including a ban on flying below 2,500ft, but these do not apply to aircraft approaching or departing from Heathrow or London City airports.
Separate NOTAM information states that GPS signal and radio-frequency jamming activity in central London could affect equipment including GPS receivers or control of unmanned aerial systems.