London Heathrow is to establish a new back-up control tower which will become operational in 2025, and replace an older facility.
The airport already has an off-site virtual tower back-up – implemented in 2009 – which serves to recreate the hub's main control tower, and provide operations up to 70% of full capacity, should it ever be needed.
But the new virtual contingency facility, while initially offering the same service level, will subsequently be enhanced with the aim of enabling it to offer a 100% operation.
UK air navigation service NATS says the centre will be based at the airport and use live high-definition cameras to replicate the view from the tower.
NATS has been contracted to deploy the installation and undertake the transition.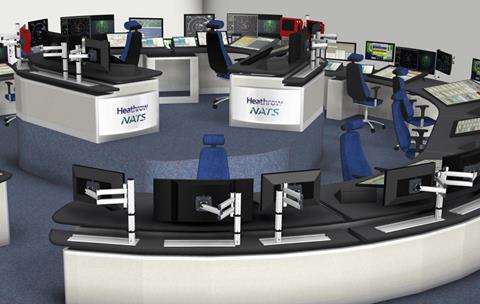 Work has started on the new centre, it says, which will provide "added resilience" to Heathrow's operation and "protection" of the country's aviation infrastructure.
NATS says it has never been necessary to switch to the back-up tower, but exercises to simulate a main-tower shutdown and transfer are regularly conducted.
"Investing in a state of the art virtual contingency facility with NATS provides us with confidence that passenger journeys will still go ahead even if our business as usual operating plans are disrupted," says Heathrow head of airport operations Kelly Stone.
NATS general manager for Heathrow air traffic services Pete Glass adds that the planned enhancement of the facility – which will be carried out in a second development phase – will involve deploying "some of the latest technologies" to improve its capabilities.