London Southend airport's operator is shrugging off a decision by budget carrier Ryanair to close its base at the site in November, after EasyJet did the same last year.
The operating company, Esken, insists it is "commercially agnostic" to the Ryanair decision, pointing out that its agreement with the airline was based on "significantly different" economic parameters than those currently encountered.
Esken executive chairman David Shearer says the company will look to a "range of other carriers" with which to build "sustainable and profitable" passenger growth for the airport.
"[We are] in active dialogue with a range of low-cost and flagship carriers where the previously-proven route profitability, the airport's efficient operating cost base, and the safe passenger experience is likely to prove attractive as demand recovers," says the company.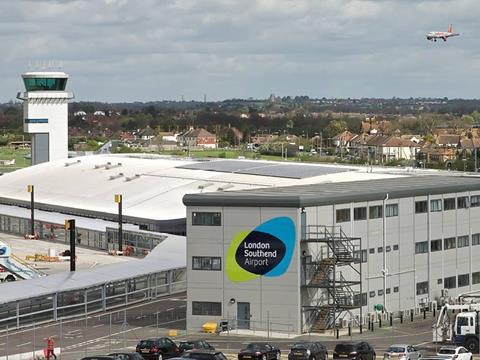 Ryanair has two aircraft based at Southend, a reduction on the three originally envisioned in its five-year agreement with the airport, but will redeploy the jets elsewhere to improve its winter network efficiency.
But Esken – which had just reached an investment agreement for the airport – says the impact on earnings and cash headroom over the 2022 fiscal year will be "negligible" given the limited expectations for flying during the winter season.
For the 2023 fiscal year, it adds, the company's management will have time to implement "mitigating actions" – including cost-savings and deferral of expenditure – while attracting new airlines to the airport, putting the impact of no such actions at £1.4 million.
"The ring-fenced funding facility for the airport has adequate headroom to cover any such potential impact," it adds.
Shearer points out that the fundamental rationale for Southend airport "remains strong" and that its investment agreement reached with Carlyle will enable it to "capitalise" on the recovery of passenger demand, which it expects to occur in summer 2022.