Airbus is not expecting to see a notable upward shift in the long-haul market until the middle of 2022, as it prepares to begin ramping-up single-aisle production.
Speaking during the Atlantic Council EU-US Future Forum on 6 May, Airbus chief executive Guillaume Faury said the crisis impact had been severe, particularly given that the airframer had been engaged in hiking aircraft output at the time.
"Our supply chain, ourselves, were investing for more production moving forwards, and we had to face a brutal reality of the vast majority of the commercial [aircraft] around the world being grounded," he says.
Airbus slashed production rates – bringing A320-family monthly output down to 40 aircraft – but is aiming to increase this to 43 in the third quarter and 45 in the fourth.
Its reduced twin-aisle aircraft rates, however, will remain untouched.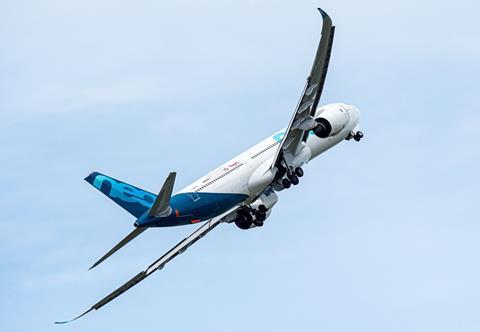 "For the long-range [aircraft] and from the long-range business for airlines, we think the tipping point will probably not be before mid of next year," says Faury.
"The different countries of the world, the different regions of the world are really managing the situation in very different ways. It will take a lot of time to re-open."
Faury says he has had "frustrations" with the European situation, whereas that in the USA is "moving very quickly in the right direction" and is "refreshing to see".
"I am quite optimistic…that Europe will follow [the USA], probably with a couple of months of delay," he says.
Faury told a first-quarter briefing on 29 April that, in response to a "quite bullish" market situation, US carriers were willing to start looking at "accelerating deliveries" – whereas the recovery scenarios in Europe were "much worse" than airlines were expecting.