Russian airframer Irkut is to test the MC-21-300 under cold-weather conditions in Siberia, to ensure it can operate in the country's extreme climate.
The tests, which are taking place in the Sakha republic, involved operating the aircraft with over 70 occupants.
State technology firm Rostec says the trials combine a proving flight from Moscow Zhukovsky with verification that the MC-21's systems can operate at temperatures below minus 30°C.
The MC-21-300 – the version powered by Pratt & Whitney PW1400G engines – secured its type certificate in December last year.
"We will have to run a series of tests to expand the certificate and hand over the first mass-produced aircraft to [launch operator] Rossiya for operation by the end of this year," says Irkut general director Andrei Boginsky.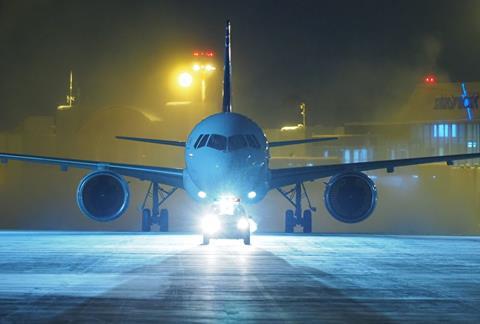 The delegation accompanying the flight to the Yakutia region included Yakovlev design bureau chief Daniil Brenerman.
"It will take approximately three weeks to conduct ground and flight tests in Yakutia, depending on the air temperature in the region," he says.
"Each test phase is preceded by cooling the aircraft and, in the evening and at night, it will be in the open parking bay for 12h."
Yakutsk airport and local carrier Yakutia will provide technical and organizational support for the testing.
Rostec says the work to extend the type certificate of the MC-21-300 has been underway since the beginning of the year, adding that bench tests of the aircraft systems involved temperatures as low as minus 55°C.
Several aircraft types – including Airbus and Boeing models, as well as the Sukhoi Superjet 100, Ilyushin Il-96, and Beriev Be-200 – have previously undergone cold-weather testing at Yakutsk.