United Aircraft has rolled out an Irkut MC-21 and Superjet 100 in a unified corporate livery ahead of the MAKS Moscow air show.
The updated livery follows a corporate branding change at United Aircraft.
It will feature on the MC-21 – prototypes of which have previously carried an Irkut design – as well as the Superjet, which has been brought into the Irkut portfolio.
After painting at the aviation centre in Ulyanovsk, the aircraft were flown to the Gromov flight-test institute near Moscow for preparations ahead of the MAKS show in mid-July.
"The new livery will be the same for all prototypes of United Aircraft civil airframes, but our flagships in the regional and medium-haul sectors – the [Superjet 100] and MC-21 – were the first to carry it," says Irkut general director Andrei Boginsky.
"These are the aircraft that will form the basis of Russian airlines' fleets in the coming years."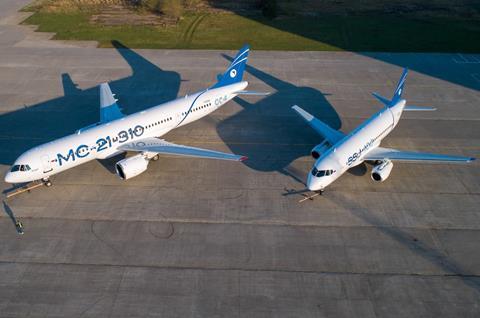 United Aircraft states that the colour scheme will be presented publicly "for the first time" at the show.
The company has shown off the livery on an MC-21-310 – the variant powered by Russian-built Aviadvigatel PD-14 engines.
Irkut is still developing a version of the Superjet 100, the SSJ-New, comprising a greater proportion of domestically-produced components, including PD-8 powerplants.
It states that it is "assembling prototypes" of the SSJ-New at its Komsomolsk-on-Amur facility and "preparing for serial production".