First deliveries of the Irkut MC-21 to launch operator Aeroflot will take place by the end of 2021, according to Russian trade and industry minister Denis Manturov.
Manturov says the combination of sanctions on the country and, in particular, the coronavirus situation have forced a delay to the twinjet's flight-test and certification campaign. He has not elaborated as to how far into 2021 he thinks initial deliveries might commence.
"We lost several months," he told the Russian publication Izvestia, in a discussion carried on the ministry's official channels. "But so far we expect delivery of aircraft to the first customers will take place by the end of 2021.
"We are now on a schedule that has been adjusted as a result of the pandemic."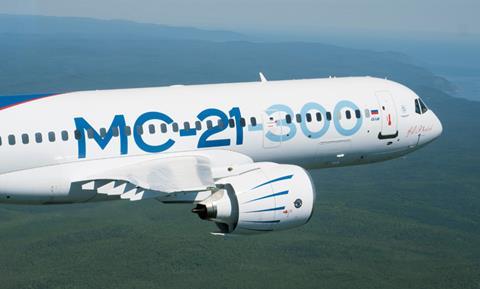 Aeroflot has 50 of the type on firm order, and options on another 35. Irkut has claimed overall firm orders for 175 MC-21.
Manturov says the manufacturer has deliberately opted to supply domestic carriers first, in order to build up a maintenance and servicing capability, and "avoid repeating" mistakes made with the Sukhoi Superjet – production of which has recently been taken over by Irkut.
He says the Superjet was badly affected by insufficient spares being provided through service centres, and points out that an inventory of spares is already being produced for the MC-21.
Russia's aerospace industry has adopted a policy of import substitution, replacing foreign components with domestically-built ones, where a compromise with overseas partners cannot be achieved.
Manturov says the planned 'SSJ New' – a Superjet 100 with mainly Russian components, set to emerge in 2023 – will use the Aviadvigatel PD-8 engine instead of the PowerJet SaM146. The PD-8 is a lower-thrust version of the PD-14 which has been developed for the MC-21, an alternative to the Pratt & Whitney PW1400G.