One of the Irkut MC-21-300 test aircraft has returned to Moscow Zhukovsky from Yakutsk, following completion of extreme cold-weather testing in the east of Russia.
Irkut has secured initial type certification for the -300 from the Russian civil aviation authorities and the testing is intended to extend this certificate.
The aircraft in Yakutsk, 73056, has been undergoing tests – in temperatures as low as minus 30°C – since 23 January.
Russian state technology firm Rostec says the twinjet, powered by Pratt & Whitney PW1400G engines, was "thoroughly cooled" with 12h outside exposure before each phase of testing.
"This was followed by the usual flight preparation procedures – fuelling, turning the systems on, starting the engines and auxiliary power unit, warming up the aircraft, and so on," it adds.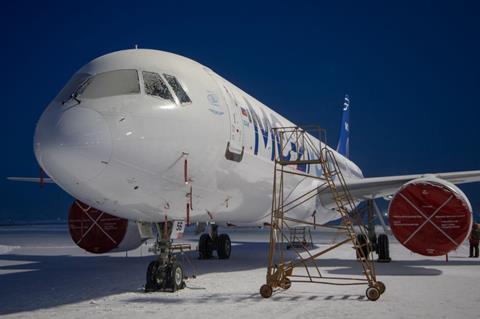 Flights of up to 6h were then carried out over different areas of the Sakha republic, including northern routes, to assess the various systems on the jet.
"The majority of landings were performed at nights when the lowest temperatures are registered," says Rostec.
It adds that "challenging" scenarios were explored including in-flight engine shutdown and start-up.
Irkut chief executive Andrei Boginsky says the company has "completed an important testing stage" to broaden the MC-21-300's type certificate.
"This year we are planning to test the aircraft intensely in different regions of our country and abroad, including conditions with high mountains, strong windshifts and high temperatures," he adds.
Rossiya is set to be the first operator of the MC-21 with plans to introduce the type this year.