One of the Irkut MC-21-300 test aircraft has been flown to Arkhangelsk in northern Russia to undergo natural icing certification tests.
The aircraft, number 73051, is the same jet that was involved in a runway excursion at Moscow Zhukovsky in January while it was performing simulated single-engine approaches.
Arkhangelsk is situated on the White Sea coast and the twinjet – powered by Pratt & Whitney PW1400G engines – will fly some 20 flights during the programme.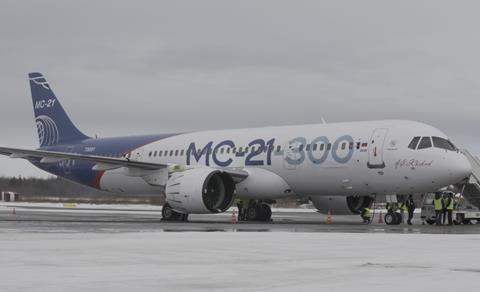 Irkut says the region experiences a combination of high humidity and low temperatures, conducive to ice formation on aircraft surfaces.
"The effectiveness of the MC-21-300's anti-icing systems, and the ability of the aircraft to fly safely under these conditions, will be tested," it adds.
Meteorological data for Arkhangelsk on 24 March, the day the aircraft flew to the airport, shows peak temperatures of around 8°C and good visibility.
Twelve video cameras are among the equipment installed on the MC-21 to record the aircraft's functioning in icing areas.
Five MC-21s comprise the flight-test fleet. Four of them are the -300 variant, with the PW1400G powerplant, while one is a -310 with the Russian-built Aviadvigatel PD-14.