Several Russian aircraft types have formally had type certificates suspended by the European Union Aviation Safety Agency as part of the package of sanctions on the country's aviation industry.
EASA has suspended the certificates of the Tupolev Tu-204-120CE – the Rolls-Royce RB211-powered version of the twinjet, which features Honeywell avionics – as well as the Irkut Superjet 100, which is fitted with PowerJet SaM146 engines.
The Tu-204's Russian certification was validated by EASA in 2008 while the Superjet secured EASA approval in 2012.
EASA says it has also "decided to put on hold", until further notice, all work associated with new certification applications from Russian organisations – which will include that for the Irkut MC-21 and the Aviadvigatel PD-14 engine.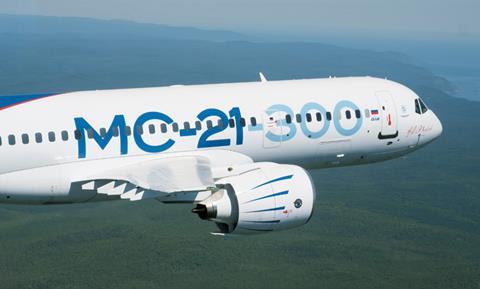 The authority has similarly suspended type certificates for the twin-engined Beriev Be-200 amphibious firefighting aircraft, which has previously been used to combat wildfires in parts of Europe.
Other aircraft affected by the suspensions include the light Be-103 amphibian and the Russian Helicopters Kamov Ka-32, plus the Augur AL-30 balloon.
EASA's withdrawals also cover design and production approvals, plus approvals for some 40 maintenance organisations, as well as third-country authorisations for 43 Russian airlines and other operators.