Irkut has carried out a dozen flights with the MC-21 on different routes, carrying test passengers, as part of the final stage of certification.
The -300 variant of the aircraft – fitted with Pratt & Whitney PW1400G engines – has conducted 12 proving flights, says Russian aerospace firm United Aircraft.
Passengers transported on board the flights comprised specialists who participated in the design, development and certification effort.
United Aircraft says the average duration of the flights was more than 6h.
It states that the MC-21, configured with a two-class passenger cabin, carried out three flights per day during the proving schedule. The aircraft performed normally.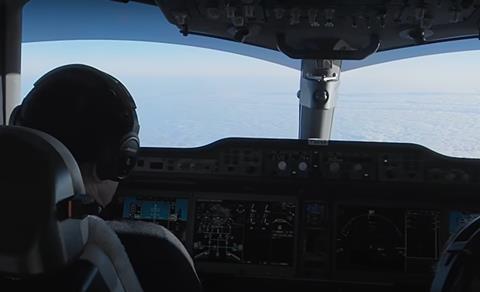 "The purpose of the proving tests…is to check the aircraft under conditions that are as close as possible to real operation," the company adds.
"Previous certification flights have separately confirmed the [individual] capabilities and performance of the aircraft and its systems.
"Proving tests enable evaluation of the aircraft as a whole."
The routes operated during the flights included Moscow Zhukovsky-Irkutsk, connecting the cities at which the MC-21 has undergone assembly and its certification testing.
Among the passengers was MC-21 chief designer Konstantin Popovich who said the testing was in the "final stage".
He says the high aspect ratio wing, composite structures and the powerplants contribute to the twinjet's good economic performance.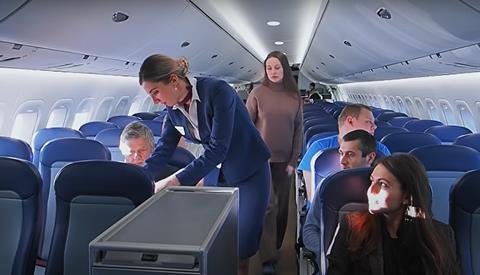 Popovich points out that the aircraft has a wide fuselage, enabling the installation of larger luggage bins and a wider aisle.
"This is for passenger convenience – but not only for passenger convenience," he says, adding that it serves an operational requirement. "Wide aisles allow passengers to disembark the aircraft faster, and quicker preparation of the next flight."
Yakovlev design bureau managing director Daniil Brenerman, who was also on board, highlighted other features including the "very bright cabin" resulting from the "large windows" on the aircraft, the comfortable seat pitch, and the modern galley design.