Russia's Aviadvigatel PD-14 engine for the Irkut MC-21-310 has met the latest ICAO requirements regarding emissions criteria.
State technology firm Rostec says the powerplant, originally certified by Russian regulator Rosaviatsia in 2018, "fully meets" a new ICAO standard introduced last year.
This new standard amended smoke and particle emissions criteria and required "additional certification", says Rostec.
It states that a Zurich-based institution supported the measurement work and that a certificate of conformity has been issued by the Swiss federal civil aviation office.
Further amendments to the standard are set to be introduced at the beginning of 2023, says Rostec, but the PD-14 has a "reserve" of 85% which means it is "ready for future changes".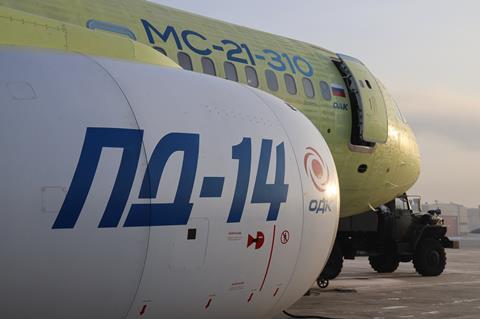 Rostec's United Engine division is considering establishing a centre of competence for measuring aircraft engine emissions focused on Aviadvigatel's facilities.
United Engine general designer Yuri Shmotin says the PD-14's emissions approval means aircraft fitted with the engines will be able to serve international routes and be offered to the international market.